Careers
Call for developer of CECAM-MARVEL-MAX training portal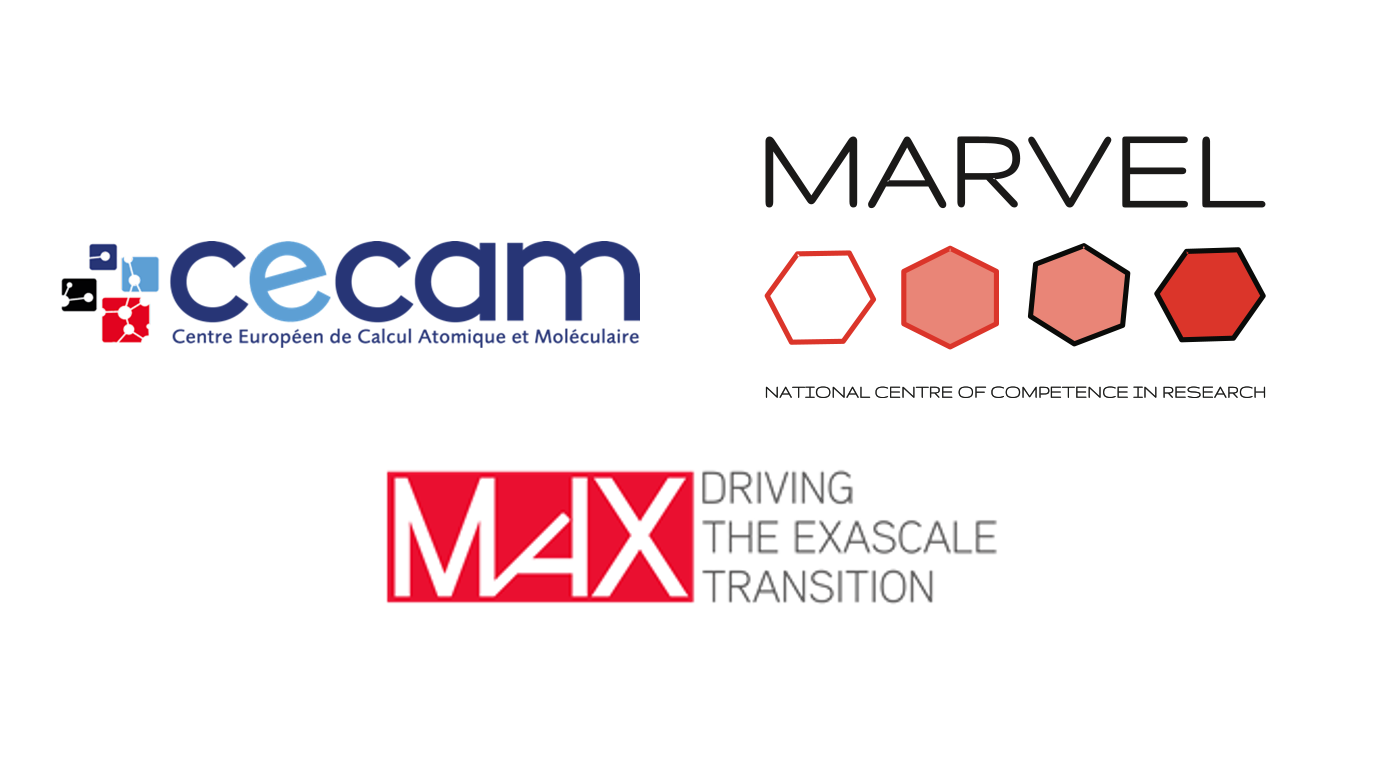 CECAM invites applications for a position as developer of the CECAM-MARVEL-MaX web repository for training in simulation and modeling.
This repository is a collaboration between CECAM, MARVEL, and MaX, three leading-edge institutions in the domain of simulation and modeling. The project targets the creation, maintenance and update of a web-based archive for training and dissemination material such as videos, notes and presentations originating from the high-quality schools, seminars and on-line activities organized by the three centers and their broad community. The archive will build on the existing dissemination platforms of these institutions, in particular the CECAM/E-CAM training portal , Materials Cloud Archive, Materials Cloud Learn, and the MaX training and education portal.
The developer will be based at CECAM HQ in EPF-Lausanne and will work in close collaboration with the creators of the existing platforms to further develop and integrate functionalities in a new portal which leverages the Clowder Framework . Clowder is an open source research data management system designed to support any data format and multiple research domains. The original system has been integrated, in particular, in the CECAM/E-CAM portal, with several bespoke features to facilitate upload and management of training content.
The new archive will further develop this system to
Improve the user interface and develop a user-friendly environment for uploading and viewing data (including video and audio recorded lectures, integrated with slides, notes, and related supporting material) which leverages the Clowder API.
Implement metadata control protocols.
Implement an effective management of tags for content.
The appointment will be made for 1 year in the first instance. Salary will be determined based on the qualifications and level of prior experience of the selected candidate. As an indication, the gross annual salary for a freshly graduated postdoc at EPFL is of CHF 83,000. Funding for a second year is available and the contract can be extended depending on performance.
Requirements
Excellent knowledge of JavaScript and HTML .
Excellent knowledge of Python (or, at least, of one object-oriented programming language).
Excellent spoken and written English.
Experience/ability to work as part of a team .
The desire to advance training in simulation and modelling at a global level.
How to apply
All communication concerning this opportunity should be sent to sara.bonella@epfl.ch with subject line 'Developer of CECAM-MARVEL-MaX training archive'. Applications must take the form of one single pdf document, comprising:
A cover letter explaining your motivation for applying, and your career goals and plans.
A curriculum vitae / résumé including a complete list of publications and/or relevant outputs, academic degree results and/or rankings, and any awards, distinctions or relevant experience.
Contact details of two referees who are informed, willing, and available for contact in regard to your application.
The position will remain open until a suitable candidate is identified. However, applications should arrive before April 30 2021 for best consideration and we expect to start the selection procedure by May 10 2021.
Equal Opportunities Policy
CECAM is an equal opportunity employer and is committed to employment policies, procedures and practices which do not discriminate on grounds such as gender, civil status, family status, age, disability, race, religious belief or sexual orientation. We encourage and welcome talented people from all backgrounds to join our staff community.